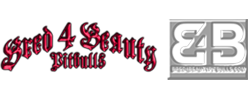 CONTACT:
Phone:
917.542.1418
Email:
info@bred4beautypitbulls.com
OUR MISSION
"BRED 4 BEAUTY PIT BULLS" WAS CREATED FOR JUST THAT, "THE BEAUTY OF PIT BULLS", PERIOD. LIKE EVERY OTHER PURCHASE PEOPLE MAKE IN LIFE, ACCORDING TO THEIR PERSONAL TASTE, WANTS & NEEDS, THE SAME THING APPLIES TO THE PIT BULL K-9. SOME LOVE THE BLOODLINE, SOME THE HEAD SIZE OR THE BUILD / WEIGHT, OTHERS THE TYPE, BE IT STANDARD OR BULLY, SOME EVEN THE COLOR, ETC... THOSE ALL INCLUSIVE, MAKE UP THE MIGHTY "PIT BULL". WE AT BRED 4 BEAUTY PIT BULLS PUT OUR EMPHASIS ON THE SHEER "BEAUTY" OF THE PIT BULL K-9. THERE IS NOT A DAY THAT GOES BY, WHEN I'M OUT WALKING MY DOGS, THAT I DON'T RECEIVE SOME SORT OF COMPLIMENT OR COMMENT, RANGING FROM: THOSE ARE THE PRETTIEST PITS / DOGS IVE EVER SEEN, TO PEOPLE FLAGGING ME DOWN IN THEIR VEHICLES ASKING "DO YOU HAVE PUPPIES, OR CAN I TAKE A PICTURE OF OR WITH YOUR DOGS?" IT NEVER CEASES TO AMAZE ME.

I BOUGHT MY 1ST PIT BULL FROM A NEIGHBOR, HE SAID HE HAD PUPS FOR SALE, SO I WENT TO CHECK THEM OUT, AND AN ALL WHITE 1 STOOD OUT FROM THE OTHER FAWN & BROWN ONES. I DIDN'T EVEN KNOW WHAT TYPE OF DOG IT WAS, BUT I SAID I HAVE TO HAVE THAT ONE. THE DOG WAS ONLY $150.00 / NO PAPERS / SHOTS / ETC. UNFORTUNATELY 5 MONTHS LATER, MY PUPPY: "KILO" DIED OF PARVO, BY THE TIME I GOT READY TO TAKE HM TO THE VET, IT WAS TO LATE. I WAS DEVASTATED. AT THIS TIME I DECIDED TO BUY ANOTHER 1, BUT 1ST WENT ONLINE TO DO RESEARCH. I LEARNED ABOUT COLORS / BLOODLINES / PAPERS / SHOTS / ETC. I SET OUT TO GET ANOTHER ALL WHITE PIT, LIKE KILO, BUT AFTER SEEING THE "BLUE NOSE" PITS, IN REMEMBRANCE OF "KILO", I DECIDED ON A SEXY WHITE HEAD / BLUE BODY MALE, WHOM I NAMED "ICE". 6 MONTHS LATER, AFTER EVERYONE KEPT ASKING TO ME TO BREED MY MALE WITH THEIR FEMALE, I DECIDED TO GET MY OWN. I GOT A WHITE & BLUE FEMALE ~ "COCO". A YEAR LATER, OUR VERY 1ST GORGEOUS "BRED 4 BEAUTY" LITTER WAS BORN.

AS THE SAYING GOES: "YOU GET WHAT YOU PAY FOR", I NEVER UNDERSTOOD WHY SOME PEOPLE SPEND THE LARGE AMOUNTS OF MONEY THAT THEY DO FOR PETS. BUT AFTER DOING MY RESEARCH, ON THE VALUE THAT THESE DOGS HOLD, THE $2000.00 + I SPENT ON MY MALE, ICE, WAS WELL WORTH IT, FAR FROM THE $150.00 I SPENT, INITIALLY. NOW I TELL PEOPLE, WHEN BUYING A PIT, OR ANY PET, ITS AN ADDITION TO YOUR FAMILY, SOMETHING THAT WILL REFLECT YOU, YOUR PERSONALITY & TASTE. JUST LIKE WHEN GUYS PURCHASE CARS, THEY CHECK OUT THE STYLE / COLOR / SPEED / RELIABILITY / "CHICK MAGNETISM", ETC. AND THE SAME WHEN LADIES BY THEIR SHOES, THEY GO BY BRAND / COLOR / STYLE / HEEL SIZE, ETC. BUT THEY KNOW EXACTLY WHAT THEY WANT, WHEN THEY SEE IT.

SO IN SHORT, LOOK AROUND, AND ALWAYS REMEMBER: "QUALITY IS PRICELESS / YOU GET WHAT YOU PAY FOR". SO FOR THE SEXIEST PIT BULL PUPS OUT, YOU'LL FIND THEM
RIGHT HERE @ :BRED4BEAUTYPITBULLS.COM